Relaxation 'The Neutral Principle'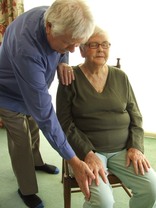 o Do you wish you could enjoy being relaxed more?
o Do you wish to assist your friends or family by sharing an even simpler way to Relax than they could possibly imagine?
o Do you work with mindfulness already, and wish to build on the benefits?
If you wish to know more, then come along to one of our 1/2 Day open sharing of a seated relaxation session where we guide you to be able to gift a session to you friends and family.
There will be no charge, it is our gift to you, sharing the principle of Neutral Space Relaxation®
We will be operating a 'Gift Economy' talk to Lyn or Graham to-day.
Limited spaces are available at each 1/2 Day Training
Booking is essential
01297 647888